And your MVP is…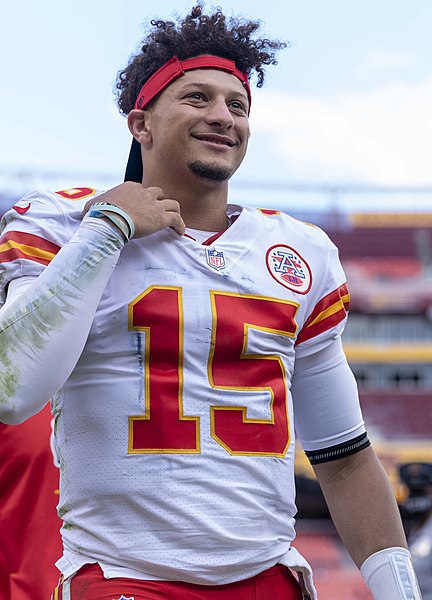 The NFL season has officially come to an end meaning it is time to crown an MVP. With the award typically being a "quarterback award" fans (including myself) have narrowed it down to three finalists to take home the award: Patrick Mahomes, Joe Burrow, and Jalen Hurts.
Each quarterback has played outstanding football this year, giving each their own separate case to take home the award. So I thought it would be interesting to give each quarterback a case for why they should bring home the award and say who I think is the NFL's Most Valuable Player.
To start I wanted to give some of my honorable mentions to players who would've won the award if not for injuries or positional value.
Justin Jefferson, wide receiver for the Minnesota Vikings, was debatably the best receiver in the league this past season. After leading the league in receptions, receiving yards, and receiving yards per game, he would have had a case if positional value was not a thing.
The same thing goes for defensive end Nick Bosa, who was by far the best defensive player in the league this year. The only problem is that it would be criminal to give him the MVP if TJ Watt wasn't able to win the MVP last year after tying the sack record (22.5).
Finally, we have Josh Allen. The Buffalo Bills quarterback was exceptional this year, throwing for 4,283 yards and 35 touchdowns. His case for MVP isn't as strong due to him not leading in any major statistical categories, unlike the three other candidates.
Now with that out the way, let's get into the three candidates for MVP.
For starters, we have Patrick Mahomes who potentially has the strongest case for it. The former MVP/Super Bowl champion put up 5,250 passing yards (only quarterback who threw for over 5k yards this year), 41 passing touchdowns (only QB to throw for over 40 TDs this year), and 12 interceptions. He led the league in passing yards, passing touchdowns, touchdown percentage, and passing yards per game (ypg). Mahomes was able to accomplish all of this even after losing his best wide receiver in Tyreek Hill and led the Chiefs to the best record in the league (tied for first). The only knock on his game and his game and why he doesn't run away with the award is because of his interceptions. If the voters disregard these turnovers, he should be the clear-cut winner of the MVP.
Next, we have Joe Burrow, whose argument varies based on whether or not you like him. The former number-one overall pick threw for 4,475 yards, 35 touchdowns, and 12 interceptions. So what gives him a case if his stats are worse than Mahomes? It's his accuracy. Burrow is second in the league in completion percentage (pct) it is first out of all of the other candidates. The biggest knock on his case is that he debatably (you'll see why I say that in a little bit) has the best-receiving core out of the three. Ja'Marr Chase and Tee Higgins were able to put up over 1,000 yards each and Tyler Boyd was able to put up over 5 touchdowns along with Ja'Marr (9) and Tee (7).
Finally, we have Jalen Hurts, whose case is more unique than everyone else's. The former second-round pick from Oklahoma completed 66.5 percent of his passes for 3,701 yards, 22 touchdowns, and 6 interceptions. Hurts had the best record out of the three, leading the star-studded eagles to a 13-1 record when he was playing. The Eagles were 1-2 without him and finished the season with a record of 14-3 (tied with the Chiefs for the best record). Although his passing stats are mediocre, his rushing stats are phenomenal. Hurts was by far the best rushing quarterback out of these three putting up 760 rushing yards (4th best in the league) and 13 rushing touchdowns (1st in the league this season and 2nd all-time behind Cam Newton).
Him missing games holds his case back a little, for his stats would be much better in both the rushing and passing. What holds his argument back is his weapons. A.J. Brown and Devonta Smith played like one of the best wide receiver duos in the NFL this past season with each putting up over 1,000 yards. Pair that with one of the best offensive lines in football, a pro bowler in Miles Sanders, and one of the better receiving tight ends in the league in Dallas Goedert, it makes Hurts' numbers look a tad bit underwhelming.
Now it's time for me to announce who I think should take home the MVP. In my opinion, the award goes to Patrick Mahomes. Even if you look at his interceptions, Mahomes threw less than Burrow and still beat him and Hurts in almost every major statistical passing category. Mahomes also did this with the worst receiving corps out of the three. Outside of his tight end Travis Kelce (who is the best tight end in the league, none of Mahomes' receivers went for over 1,000 or had over 80 receptions. Even though my opinion does not matter in the grand scheme of things (since I don't have a vote), I feel that if Mahomes is not holding up the MVP trophy at the end of the season. It would be criminal.
Leave a Comment